PENCIL PLEAT CURTAINS
A Classic & Timeless Curtain Style
Request an appointment with a Sales Advisor
We Measure, We Fit, You Relax
Call for Free : 800 5570612
Pencil Pleats is one of our most traditional headings for curtains. It is manufactured with tightly assembled folds that preserve their shape while the fabric plunges freely to the surface. Our Pencil Pleat curtains are very popular for style the windows in living rooms, dining rooms, bedrooms & classic interior homes.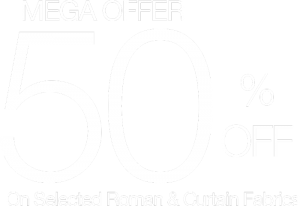 Abu Dhabi Curtains offers a wide range of ready-made pencil pleated curtains in a variety of colors, sizes, and styles. Easily recognized by the header of their name that creates a neat pencil-like crease, this curtain style is suitable for both traditional and more modern interiors.
For a good night's sleep, try a blackout curtain with pencil pleats to keep unwanted sunlight out of your house. Pencil pleated thermal blackout curtains also help regulate the temperature of the room, keeping it cool in the summer and warm in the winter.
The trendy pink pleated curtains are ideal for refreshing your home, while the gray pencil pleated curtains add stylish sophistication to any room. Other popular colors for pencil pleated curtains are white, black, cream, yellow, mustard, red, navy, blue, green, and turquoise. Of course, we know that patterned pencil pleated curtains are also in fashion. There are many choices, including plaids, flowers, stripes, and geometric patterns, and more.
Our pencil pleat curtains are to be had in a huge sort of widths and drops to fit your requirements. But don't fear in case you can't find your size – our manufactured to degree carrier will offer you within reality non-public pencil pleat curtains to finish your home.